Louis started guiding safaris in 1994. Freelancing at first but soon started his own Outfitting company called Footsoo Safaris which was changed to Ebersöhn Safaris. He briefly stepped out of the industry in 2012 but on 23/03/2014 he stepped back in as African Wildlife Services, AWS (Pty) Ltdtrading as:
AWS: Aerial Wildlife Services
AWS: African Wilderness Safaris
AWS: African Wildlife Security
The AWS business model is based upon the guiding principles as described in "The Conservation Game: Saving Africa's Biodiversity. By Gerhard R. Damm".
Ensuring AWS position as an industry roleplayer in such a way that it can secure support and endorsements from both the pro-utilisation and anti-utilsation lobbies. Conservation through sustainable utilisation is the only viable way to ensure that the game animals of today will still be around 10, 20 or a 100 years from now, the common / shared objective. Louis has also taken a very bold dissision to never again display any pictures of harvested animals or pictures of hunters posing next to harvested animals. Because; Pictures of people and dead animals, or dead animals alone, is just a stick to beat us with because it triggers an emotional response from the naive majority in the global village. (Clinical photo's and data will however be gathered and kept for scientific recordkeeping and taxidermy purposes).
Louis B. Ebersöhn
FOUNDING MEMBER & CEO
Louis is an Outfitter, Guide and Ranger. An Independent Business Risk & Security Consultant / Advisor to various Governments, NGO's and Multinational Corporates.
Dr. André Ebersöhn
FOUNDING MEMBER AND ADVISOR
Born in February, 1943, Andre grew up on farms near Heidelberg, Gauteng, and at "Bo-Palala" in the Waterberg, in the centre of the old Transvaal.
African Wilderness Safaris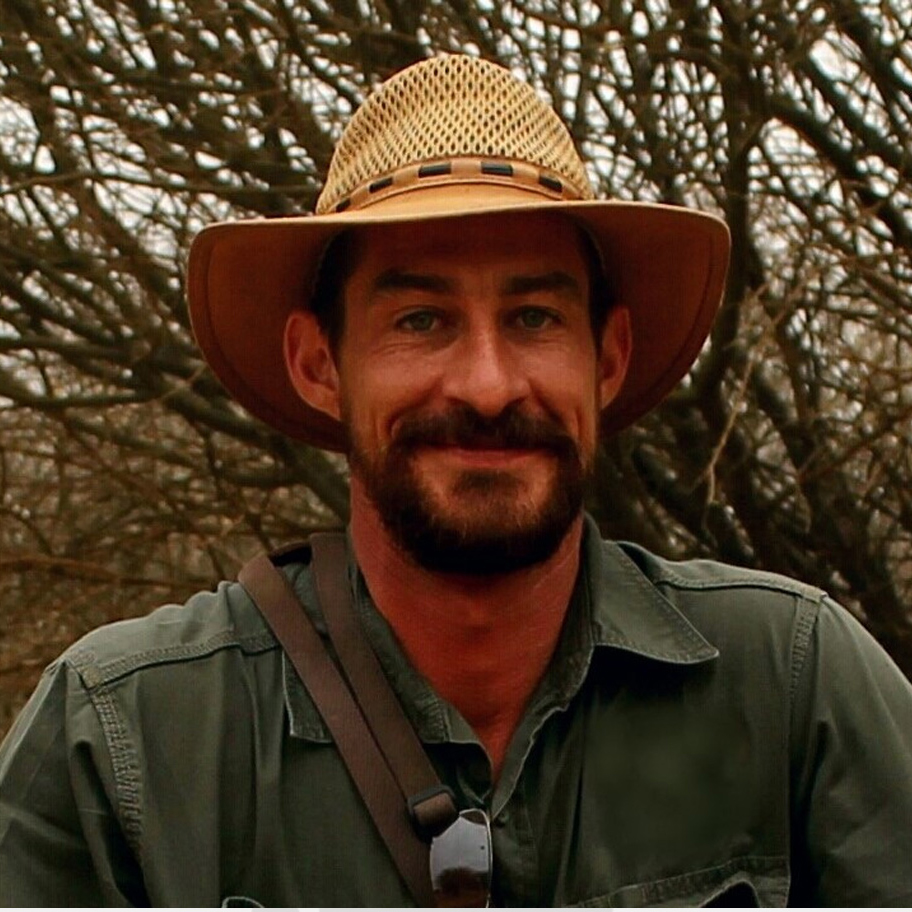 Mr. Gert Esterhuizen
SAFARI OPERATIONS MANAGER
Born with a love for nature and all its creatures, Gert had the core fundamentals of conservation through sustainable utilization deeply ingrained by his peers while growing up. He spent every available opportunity out in the field.
African Wildlife Security
Mr. Chris Pretoruis
Security Operations Manager
Chris is a Security Consultant and Risk Advisor.  Growing up on a farm in Namibia Chris knew he would want to get involved in protecting Africa's Wildlife. After finishing Matric he got involved in Security and went through numerous training including SWAT and VIP Protection. 
Johan Langenhoven
APPRENTICE GUIDE
Johan is a recently qualified guide who completed a year of training at the Eco Ranger Academy, Hoedspruit (2017). He is building up his hours in the field towards becoming a fully qualified Dangerous Game Guide. Though he has little experience, his dedication and passion for the industry as well as his work ethic is unquestionable. Johan Langenhoven: 2nd rifleman / back-up. Dangerous Game Guide DEAT Number: LP-2102
Outfitters
Current Outfitter permit no: ZA/LP/84804
Our Methodology
THE CONSERVATION GAME: SAVING AFRICA'S BIODIVERSITY
Professional hunters
Current Professional hunter permit no: ZA/LP/83885
Plains Game Safari 1-on-1
Spend your days surrounded by Southern Africa's Natural Wilderness, creating precious memories while in pursuit of your choice of Plains game, guided by a qualified Professional
Head Office
17 Longclaw, Meyersdal, Eco Estate
EMAIL US
admin@africanwildlifeservices.co.za
Born in February, 1943, Andre grew up on farms near Heidelberg, Gauteng, and at "Bo-Palala" in the Waterberg, in the centre of the old Transvaal. Their house was a typical "hartbeeshuisie" built with blocks of soil, with cowdung smeared floors. There was a patch of peach pips embedded in the floor around the Aga Stove, around which the family spent their cold evenings. The windows were solid planks, handsawn from Boekenhout trees, with hinges made from cowhide and a thatched roof. Water had to be carried in buckets from a fountain about 100 yards from the house, and everyone had to look after their own water needs. Grass grew out of the walls when it rained a lot. Andre and his brothers caught and sold snakes to Fitzimons Snake Park in order to earn pocket money.
Andre was schooled in conservative schools and church in Potgietersrus, a town founded by the Voortrekker leader, Hendrik Potgieter. His father gave him five pounds and sent him away to start his own life, never to lend him any financial support again. He hitch-hiked to Pretoria University and studied civil engineering. He paid his way through university with hard work and innovation.
Andre spent a few years working in various fields; on road and bridge construction, as an analytical chemist at the South African Bureau of Standards and later in a private pharmaceutical company as chief quality control chemist.
He started his own woodwork factory underneath a big old Wattle tree in 1968, manufacturing beehives and furniture. The old tree crashed down on top of his small workshop during a huge storm, and it had to be rebuilt.
The beehive / bee-equipment department grew into the largest of it's kind in the southern hemisphere. At the same time he developed his own migratory beekeeping enterprise which grew into a sizable unit. Most of the specialised machinery and equipment needed for this enterprise he designed and made himself. With the support of his wife Lame he developed a honey co-op type of bottling plant that produced and distributed 60 to 70 tons of honey per month.
In 1976 he went back to Pretoria University to study medicine, and went on to become a very successful Anaesthetist and he has been practicing for the last 28 years.
Together with his son Louis, they developed AWS where Andre is deeply and earnestly involved today. His biggest passions in life are classical music, and South African wildlife.
Professional hunter permit – Limpopo # ZA/LP/HO/2739
Professional hunter permit – North west # PH-123/12/2017NW
Full Trails / Dangerous Game / Provincial Nature Guide
(Limpopo / Mpumalanga / KwaZulu Natal)
DEAT Registration # LP2033
Born with a love for nature and all its creatures, Gert had the core fundamentals of conservation through sustainable utilization deeply ingrained by his peers while growing up. He spent every available opportunity out in the field.
While exploring various industries, slowly gravitating back to his first love, he started part-time Freelancing in 2010.
In 2013 he decided to enter the Wildlife Industry on a fulltime basis.
Having explored various avenues of industry has bolstered his dedication & passion towards Nature & all it encompasses.
He then went on and Qualified as a Paramedic in 2006. He joined Netcare 911 and qualified as a Rescue Medic in 2008. The opportunity presented himself and he went to Afghanistan in 2009 as a PMC (Private Military Contractor). After spending 2 years in Afghanistan he went over to the DRC (Democratic Republic of the Congo) and became part as a team training the Presidential Protection Unit. Chris then went back to the Middle East but this time to Iraq as a PMC. He served under the USA banner on a DOD (Department of Defence) contract. After spending 4 years in Iraq he decided to return home and follow his passion which is protecting Africa's wildlife, but another opportunity arise, and he found himself in Somalia this time. He sole job was to oversee a group of Hotels based in Mogadishu, but it quickly escalated to doing close protection for the Prime Minister and assisting the UN (United Nations) in planning and operations. In 2017 after the election he decided it was time to hand over to his Somalian counterpart and return to South Africa. He spends some time in Mexico and the USA and returned home in 2018. He decided the time was right to follow his passion and dreams and joined AWS (African Wildlife Services) team.